This project aims to reinterpret eighteenth-century culture through historical bibliometrics [i.e. the application of quantitative methods to the historical study of the production, dissemination and reception of books] and digital, spatial and textual analysis.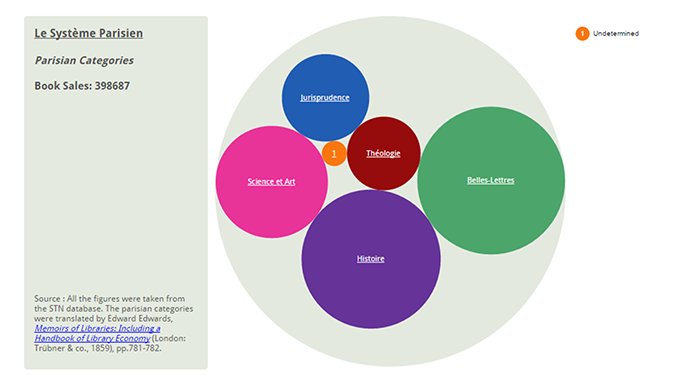 It will radically revise understandings of the late enlightenment and the transformational impact of print by reconstructing popular reading trends across the period c. 1770-1790. Through an industry-wide digital survey of unprecedented scope embracing millions of copies of thousands of titles and all sectors of the book market – the legal, the pirate and the dangerously contraband – it asks the following research questions:
What did the French read before the revolution of 1789-1799 and how did their reading compare to that of francophone readers elsewhere? How might that reading have shaped ideologies and events?
What books were produced, where were they consumed and by whom? How far can we speak of integrated national and international markets or a single print culture embracing both urban and rural areas?
How large was the religious publishing sector – was it more extensive than previous studies have suggested? What was the nature of the new book-based Catholic culture this would imply?
What was the true nature of the illegal book trade? Was it as religiously, politically and morally subversive as previous studies suggest? Have previous scholarship over-emphasised the hardcore clandestine trade at the expense of a much larger and very different pirate sector?
How cosmopolitan was fictional and non-fictional reading fare, and what might this indicate about the social and political imagination of the revolutionary generation? How do 'cosmopolitan' patterns of reading correlate with patterns of travel and the international networks of the enlightened 'Republic of Letters'?
To answer these questions the project's methodological objectives are:
(A) to combine into a single digital resource (the FBTEE-2.0 database) the most comprehensive surviving sources and key historical-bibliometric datasets on the creation, dissemination and policing of print in the enlightenment;
(B) to dynamically link this resource to data from two other world-leading projects, (i) the (as yet unpublished) MMF-2 database of the French novel and (ii) Stanford University's 'Mapping the Republic of Letters' (MRoL) project, which gives unprecedented insights into enlightenment correspondence and travel networks;
(C) to use digital, spatial and textual analysis to transform understandings of print culture and the dissemination of knowledge, the enlightenment and the origins of the French revolution; and
(D) to reflect upon and evaluate the new digital humanities techniques it develops.
Moreover, because its technologies will be transferable and can be used to study other societies, the project marks the first stage in a wider initiative to map the transcultural evolution of modern cultures. Enlightenment France makes the ideal test-bed for this method due to its mature, rich but finite print culture; the wide range of sources generated by its complex systems of censorship and policing; and the availability of pre-existing digital resources developed by members of the project team.
Chief Investigators
Other Team Members
Dr Michael Falk
Developer and Research Project Manager, Digital Humanities Research Group
(Click to view Western Sydney University Profile)
Dr Katie McDonough
Postdoctoral Research Fellow, Digital Humanities Research Group

Dr Laure Philip
Postdoctoral Research Fellow, Digital Humanities Research Group