The French Book Trade in Enlightenment Europe (FBTEE) project uses database technology to map the trade of the Société Typographique de Neuchâtel (STN), a celebrated Swiss publishing house that operated between 1769 and 1794. As the STN sold the works of other publishers alongside its own editions, their archives can be considered a representative source for studying the history of the book trade and dissemination of ideas in the late Enlightenment.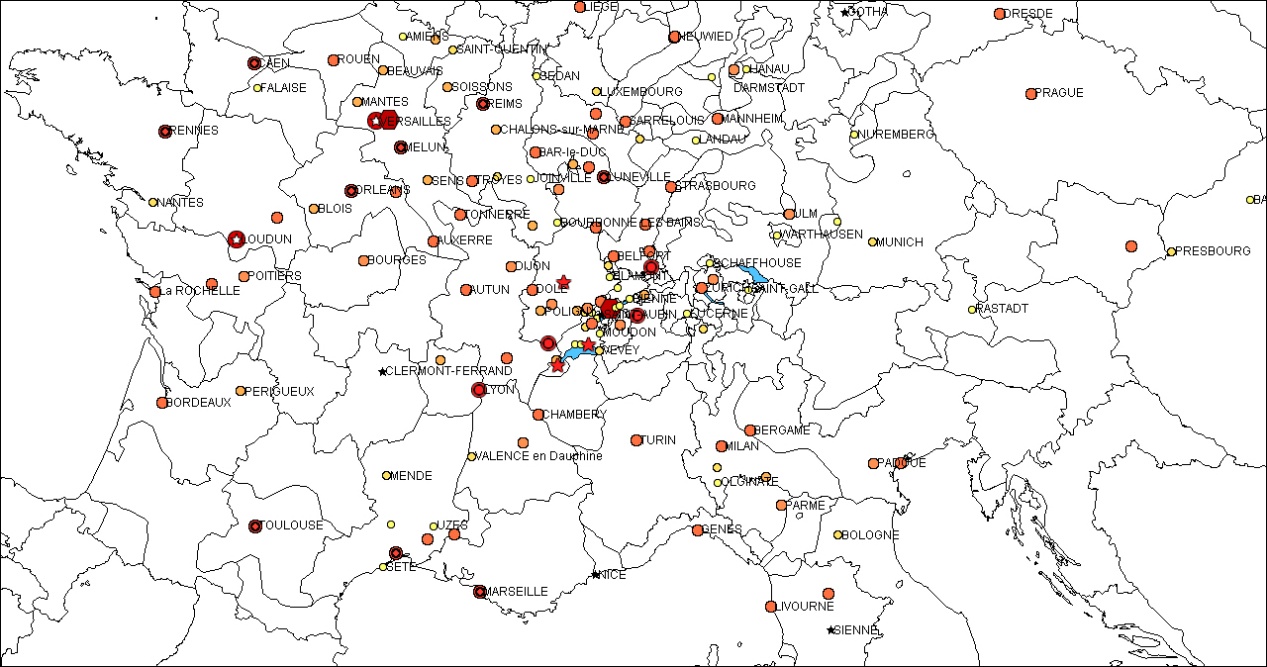 Using state of the art database, web interface and GIS technology, the project provides a user-friendly resource for use by scholars, teachers and students of French literature and history, book history, the Enlightenment and bibliography more generally.
This resource was publicly launched on 25 June 2012 and is freely available on this website. The drop down 'Help and Resources' menu inside the database user interface contains a user guide and various other tools to help users orientate themselves (Designer notes, Lists of Abbreviations and Manuscript Sources, Database totals, Visualisations and Videos, Designer Credits etc.). Video instructional and walk through materials can also be accessed from the 'Tutorials' menu at the top of this page.
In addition, this website gives an overview of the project more generally and some of the uses of the database. For more information, click on the links in the 'About' menu at the top of this page.
The project was supported by a four-year grant of £355,485 from the British Arts and Humanities Research Council awarded to Simon Burrows, at that time Professor of Modern European History at the University of Leeds.  It was conceived as the first phase of a wider initiative to digitally map the book trade across eighteenth-century Europe and beyond.
The FBTEE database structures are currently in the process of being adapted into a platform for other studies of the production, publication, dissemination and reception of printed works. Seedcorn funding for this purpose was provided to Simon Burrows on his appointment as Professor of History by the University of Western Sydney (UWS) in 2013, and work on the project is ongoing in partnership with the university's Digital Humanities Research Group.
In December 2013, the ownership of the FBTEE project, along with the hosting of the FBTEE website and database, were transferred from the University of Leeds to the University of Western Sydney.
For latest information on the project and future plans to develop the database into a platform for other researchers, consult the project blog at: frenchbooktrade.wordpress.com.