The French Book Trade database itself, thanks in no small part to the work of Sarah Kattau and Amyas (Henry) Merivale of the Leeds Electronic Text Centre, is a wonder to behold.  It was originally comprised of almost 100 rigorously structured tables each containing multiple fields, but over time Amyas (Henry) Merivale and Vincent Hiribarren have succeeded in reducing this number to just 30 by progressive streamlining and integration.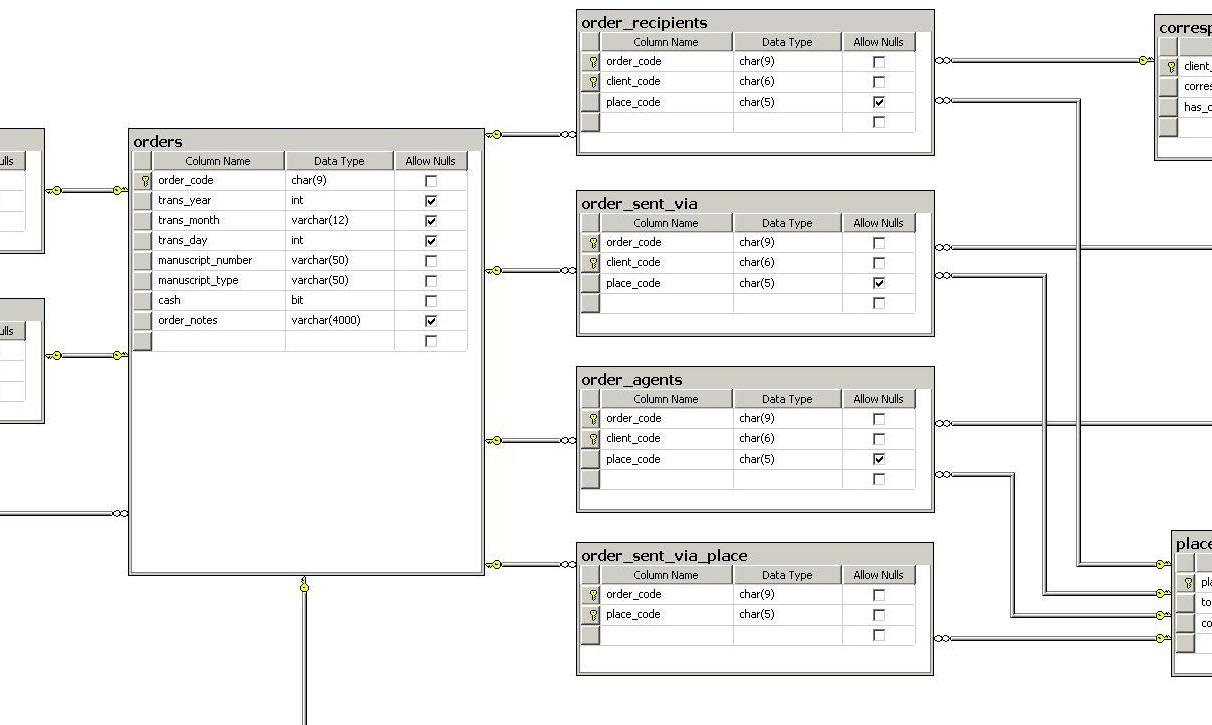 The database tools allow for extensive bibliographical, client and sales information to be entered and is adaptable for several uses.  It is envisaged that future projects will extend the range of archives and sources linked to the database.  Combined with advanced GIS mapping – credit here largely goes to Vincent Hiribarren – we believe it has the potential to make a considerable contribution to eighteenth-century and global book history.
In due course, the UWS project team aspire to develop a web-based interface through which students and scholars will be able to input their own research data and findings on the production, dissemination or reception of print in eighteenth-century Europe and the Americas.  This mixed-source approach will take our dissemination research beyond the archives of the STN and towards an even better understanding of the eighteenth-century and global book trade. It will facilitate deep mapping of the book trade in innovative ways.
In the meantime, however, we believe that The French Book Trade (FBTEE) database is ideally suited to many educational uses, even for students whose language abilities are limited to English.  For book dissemination studies, there is no comparable resource available, particularly for the eighteenth century.  But students of literature, history more generally and enlightenment studies will all find much of interest here.
Beyond other functions listed on this website, teaching uses might include:
Enlightenment studies:
Almost any study of enlightenment can be enhanced by information on dissemination in the database, whether of particular authors, texts, genres, or subjects.  There is also a very large amount of information on professional groups, trade and business networks, while for French speakers the archive offers a starting point for studies of cultural transfers across borders and between cultures and languages.  French-speaking students will find the integration of links to editions in Google books and other on-line sources particularly helpful.
Student-led project assignments:
Any number of free-standing projects on dissemination of individual authors or works, local markets, or particular subject matter are possible.  The database particularly lends itself to comparative projects.
Critiques of existing studies and methodologies:
Existing functionality allow students to interrogate existing studies of the STN, and to compare how the results of demand-led studies, notably in Robert Darnton's seminal Forbidden Bestsellers of Pre-Revolutionary France, compare with the supply side approach of the database.  Why do they produce different results?  How closely do the results marry up?  What are the advantages and disadvantages of both approaches?  Are they measuring different things?  What are the implications of any discrepancies?  How can the database be used to further interrogate prevailing ideas about the enlightenment or the influence of books in the eighteenth century?  What new possibilities does it offer?